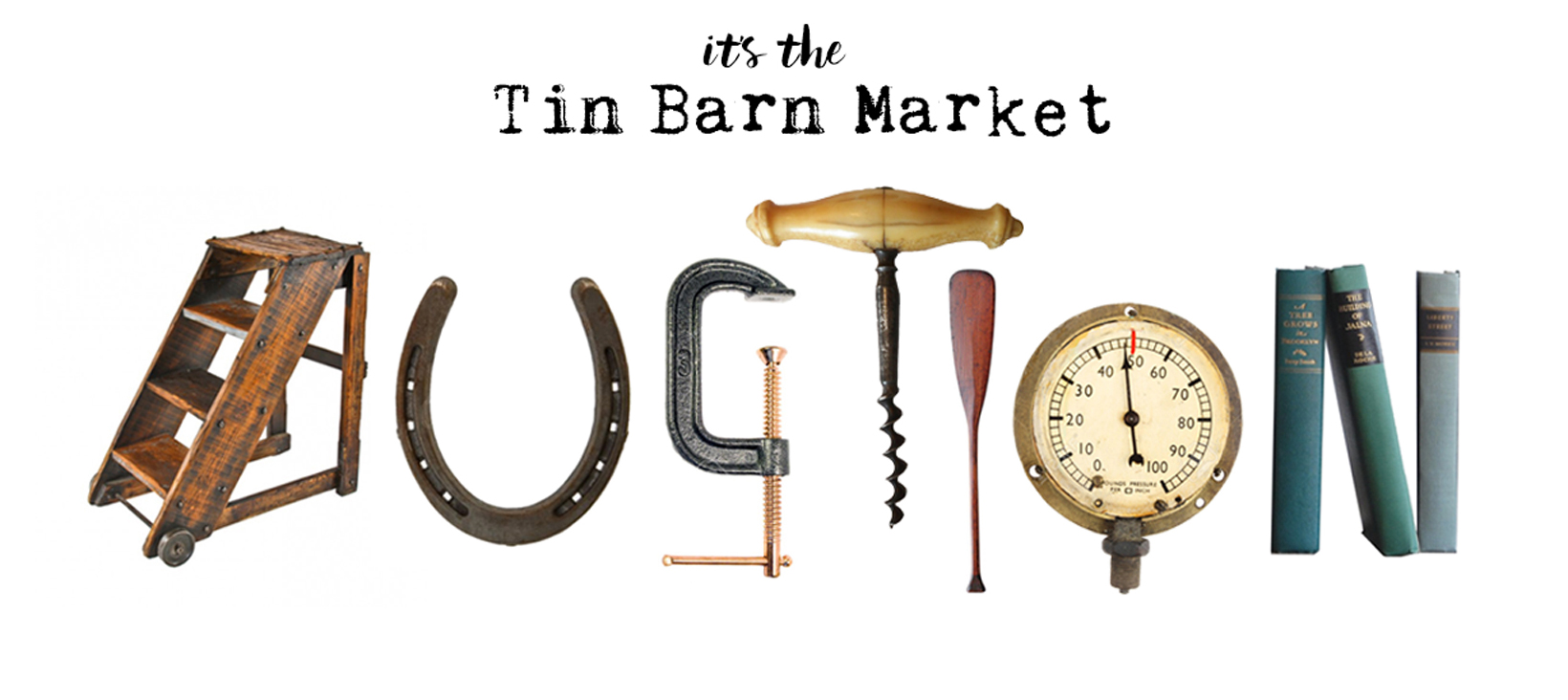 Thank you for your interest in our FACEBOOK AUCTIONS!  We usually host these one wednesday a month.  First things first, if you'd like to join, you should make sure to FOLLOW US ON FACEBOOK,  that's where all the action happens. :) 
NEXT AUCTION: WED NOV. 6TH  4-9PM
HOW TO PARTICIPATE:
The Auction will open at 4pm on the day it is scheduled and closes the same night at 9pm. By placing a bid you acknowledge that you are responsible for following through with the payment and pick up of any won items. We go by the honour system to keep things simple!
* WINNERS MUST PICK UP THEIR ITEMS BY 5pm the following Tuesday at the shop.
HOW TO BID:
Minimum opening bids are listed by the Tin Barn
To place your bid, enter your price in the comments field.
Bids must be in minimum $1 dollar increments.
Please help us keep the auction bidding simple & easy to follow – bids only – if you have questions or comments feel free to send us a private message.
TIP: Make sure to take note when dimensions are provided. It's easy to be fooled by the images and think something is much bigger or smaller than it is.
WHO WINS:
The last highest bid recorded and time-stamped at 9pm is the winner. This means if your bid is time-stamped as 9:00pm or earlier it is valid. If it is time-stamped as 9:01pm or later it will not qualify.
It is possible that two people will bid the same bid at the exact same time. If the auction is still open, there is plenty of time to up your bid. In the case that two bids are simultaneously entered at 9:00 we will take the bid that shows up last on our screen. We will indicate the winner by tagging your name in the comments field after the auction ends and sending you a private message the following morning.
PAYMENT:
CASH is the preferred method, although we are happy to accept DEBIT, VISA, & MASTERCARD for items over $10. You can pay when you pick up your items, or in advance with a credit card over the phone or via e-transfer.
HST applies to all auction items.
All auction items are sold AS-IS and are FINAL SALE.
We do our best to describe the item as accurately as possible, and will indicate whether and where an item has any flaws, damages or repairs. As many of our auction items are used, vintage or antique most will show signs of previously enjoyed use and we often think this adds to its charm
PICK UP:
Our address is 73 Little Bridge St, right beside Baker Bob's in downtown Almonte.
By participating in the auction you acknowledge that you have read, understand, and agree to adhere to the above terms and conditions of Tin Barn Facebook auction. Good luck & have FUN!
YES - WE CAN SHIP OUT OF TOWN!!
* If you don't live nearby, we are always happy to ship your won items via Canada Post. Once your winnings are totaled and boxed up we can send you a quote which can be paid at the same time. Shipping is based on weight and your location...we won't know this until everything is boxed up and we have received your address. Please only bid if you agree to the shipping expenses without knowing the actual total. Generally items in the auction are small enough that they can ship for under $20, often less...and we always try to pack as much as we can into a box to make it most affordable for you. :)